On November 11, 2023, the International Center for Refugee and Migration Studies (ICRMS) convened the second meeting of the Provincial Level Task Force, focusing on the challenges and opportunities within the higher education sector for Afghan refugees in Balochistan and Pakistan. The primary objective of the meeting was to provide updates on the progress made since the inaugural gathering, with a specific emphasis on action plans devised during the previous session. Central to the discussion was an update of the admission applications to accommodate the need of Afghan refugee students the discussion also aim to discern the number of granted admissions and identify challenges faced by those not granted admission.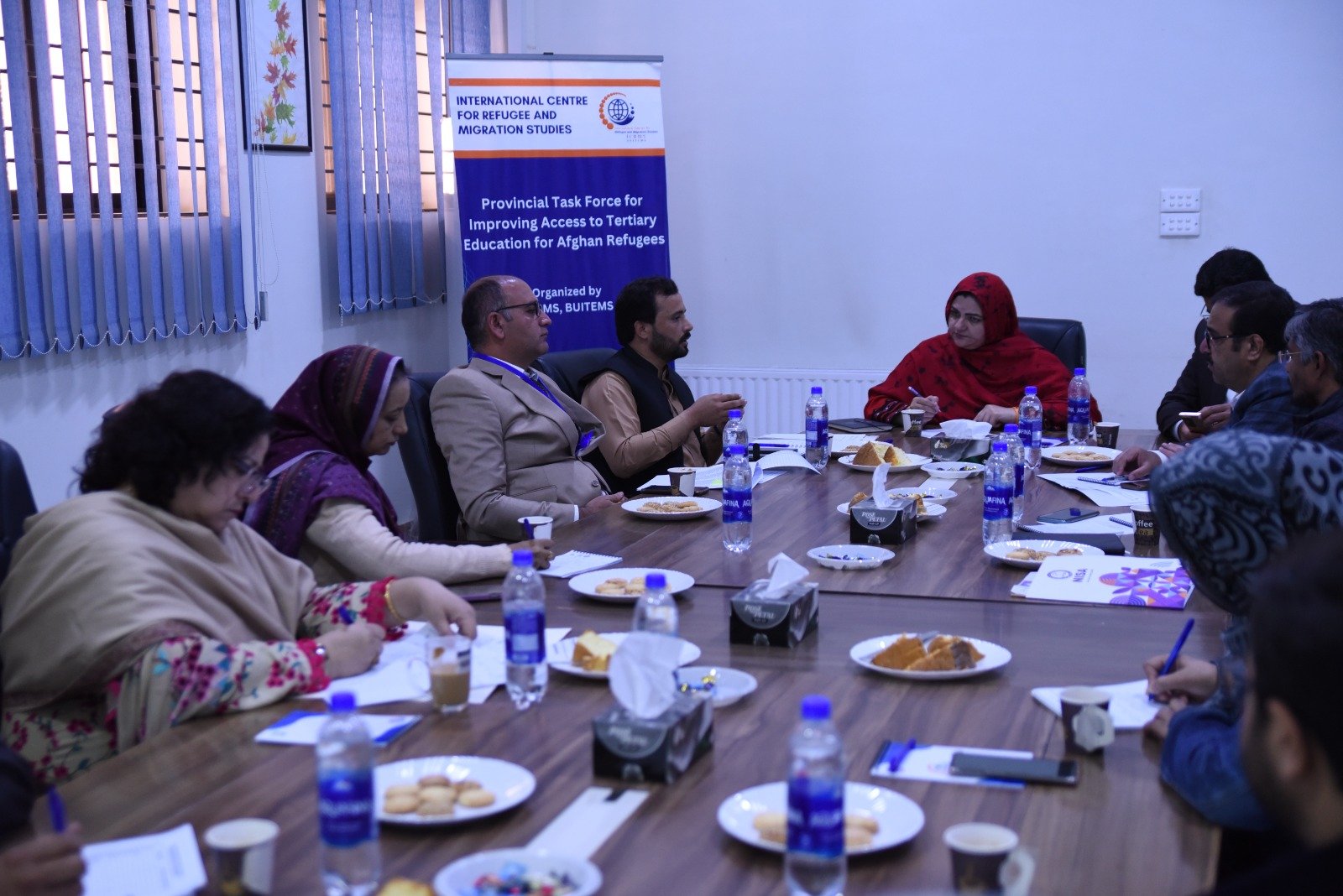 The meeting witnessed the participation of key stakeholders, including representatives from the University of Loralai, the academic branch and Refugee Facilitation Center of the University of Balochistan, the Pro-Vice Chancellor of Sardar Bahadur Khan Women's University, the academic and admission branch of Al-Hamd Islamic University, BUITEMS academic branch, and the UNHCR's Education Associate. These esteemed representatives shared comprehensive reports on the facilitation of applicants during the ongoing crisis of deportation, proposing policy recommendations to ensure a sustainable and supportive environment for refugees pursuing higher education. Significantly, the universities highlighted their commitment to the cause by updating application forms and establishing help desks specifically tailored to address the needs of Afghan refugees. The initiative to collaboratively create a dashboard and database to track the enrollment of Afghan refugees in the higher education sector at the provincial level was proposed by ICRMS, garnering unanimous support and willingness to cooperate from all participating representatives. The meeting concluded with concrete actionable plans and a commitment to ongoing collaboration, underscoring the shared responsibility in facilitating the educational journey of Afghan refugees.
Actionable Plans
Establish dedicated help desks at each participating university to guide Afghan refugee students through the admission process, providing personalized assistance.
Collaborate on the development of a centralized database and dashboard to track Afghan refugee enrollment in higher education across Balochistan, facilitating effective monitoring and resource allocation.
Formulate and recommend policies collectively to create a sustainable and inclusive higher education environment for Afghan refugees, addressing their unique challenges and ensuring equal access.
Implement a systematic approach for regular progress updates and information sharing among task force members, enabling a coordinated response to emerging challenges and opportunities.
Organize initiatives to build the capacity of university staff and faculty, enhancing cultural sensitivity and support for Afghan refugee students, fostering an inclusive educational environment.