ICRMS Commemorated World refugee Day and Gala
On June 22, 2023, the International Center for Refugee and Migration Studies (ICRMS) held a commemorative event in observance of World Refugee Day. This significant gathering attracted a distinguished audience, including prominent individuals such as Mr. Arkadiy, a senior protection officer at UNHCR, Mr. Haider Zaman, an Assistant Protection Officer at UNHCR Advocates, public prosecutors from various law enforcement agencies, Advocates Mr. Qasim Khan, Mr. Jalil Khan, and Ms. Sana Umrani, as well as representatives from Taraqee Foundation and WESS.
The event garnered substantial attendance from esteemed faculty and students of BUITEMS-LAW and the social sciences faculty, Afghan refugee students from BUITEMS, University of Balochistan, and Sardar Bahadur Khan University, along with 15 Afghan refugees residing in various parts of Pakistan, including Peshawar and Islamabad. Additionally, 50 Afghan refugees from Balochistan also participated, making the total number of attendees reach 260.
Mr. Muaz Shah, Director of Human Rights at Ziauddin University, delivered an insightful public lecture on refugee laws and policies in Pakistan. With expertise in Islamic laws and a background in police and judicial reforms, Mr. Shah's analysis carried significant weight. The lecture offered a comprehensive examination of Pakistan's existing laws and policies, emphasizing the Islamic and Sharia principles that form their foundation. Attendees gained a deeper understanding of the intricacies surrounding refugee protection, legal frameworks, and the importance of aligning them with cultural and religious contexts. Mr. Shah's thought-provoking insights contributed to fostering awareness and informed discussions on addressing refugee challenges within the Pakistani context.
As part of the World Refugee Day event, the atmosphere buzzed with anticipation as the screening of the top three short films commenced. Each film offered a unique and heartfelt perspective on the refugee experience, showcasing the resilience and humanity of those displaced from their homes. The audience was captivated by the compelling storytelling and powerful visuals presented on the big screen. After much deliberation, the coveted title of the winning film was awarded to Narnkar Raheja and Abdul Wajid, a poignant portrayal of a refugee's journey towards hope and belonging.
The World Refugee Day event reached its pinnacle with a captivating panel discussion on the theme "Hope Away from Home." Esteemed participants, including Mr. Yasir from ICRMS and BUITEMS, Mr. Muhammad Rasool, a resilient refugee principal, and Afghan refugee students Mr. Inayat Ullah and Ms. Shafiqa, shared their unique experiences and perspectives. This engaging panel discussion added depth and diversity to the discourse surrounding refugee-related issues, fostering a profound sense of understanding and empathy among all attendees. The collective insights and stories shared during the discussion served to amplify awareness, challenge preconceptions, and promote a more compassionate and inclusive approach to supporting refugees in their pursuit of hope and belonging.
In a show of recognition and gratitude, the event concluded with the presentation of prizes to the victorious participants of the quiz competition, essay competition, and short film competition. These accolades served as a testament to the remarkable endeavors undertaken by individuals who utilized their talents and ingenuity to shed light on the trials faced by refugees. As shields and souvenirs were distributed, a spirit of jubilation and unity pervaded the gathering, fostering a shared sense of celebration and camaraderie among all those who had assembled for the occasion.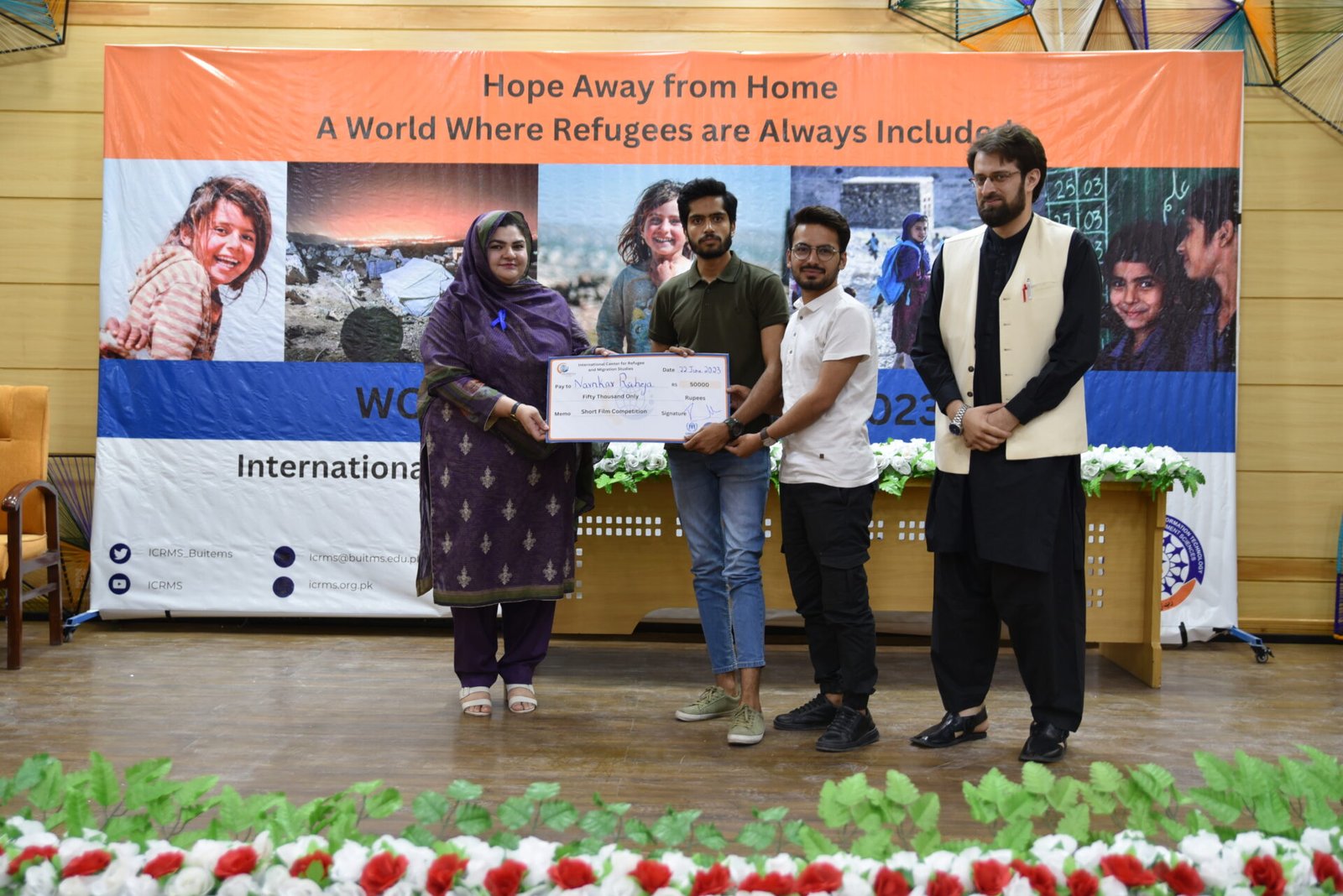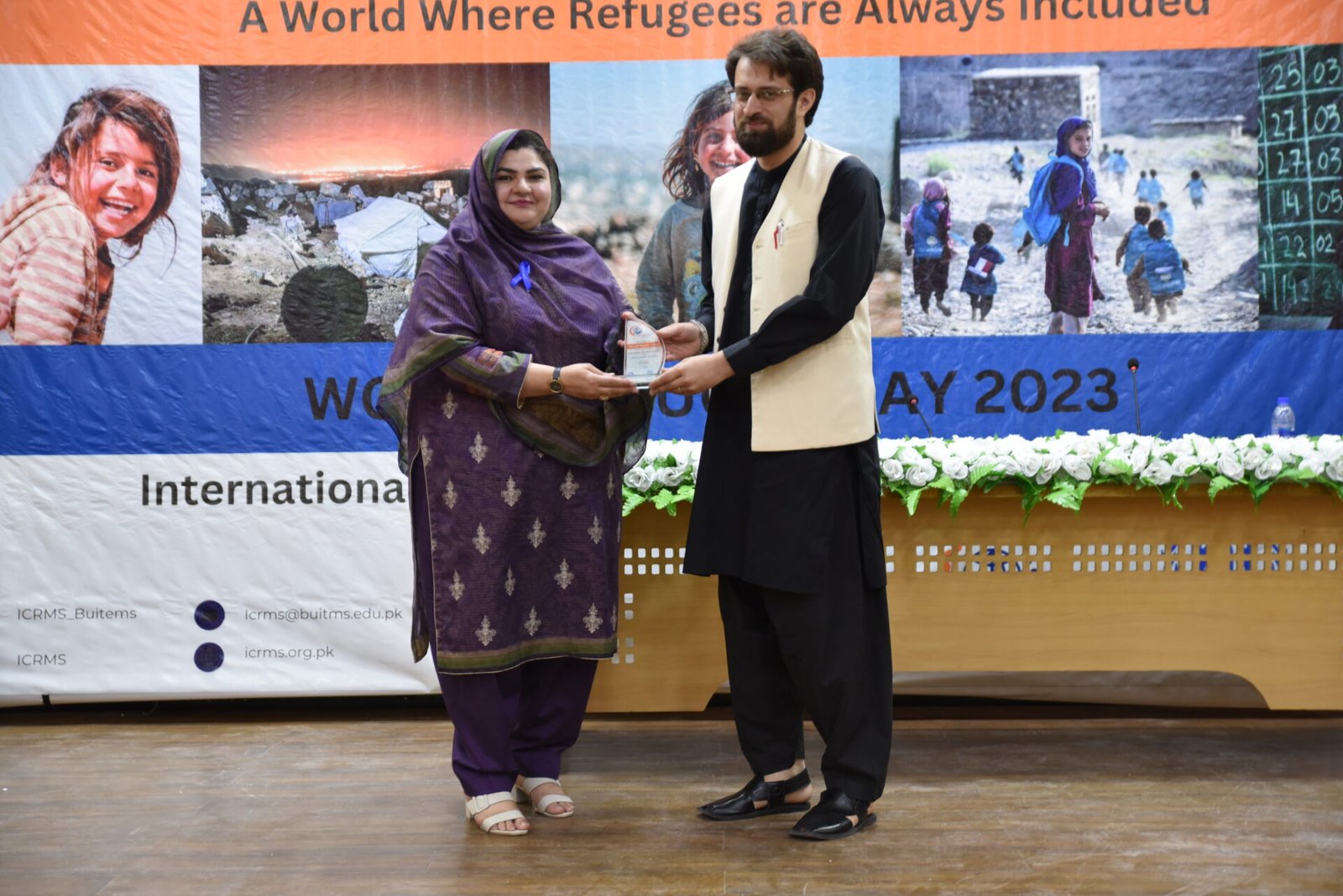 The World Refugee Day event organized by ICRMS was a resounding success, creating an intellectually stimulating environment that encouraged meaningful dialogue, understanding, and acknowledgment of the rights and challenges experienced by refugees. By bringing together a diverse range of professionals, scholars, advocates, and refugee communities, the event served as a powerful platform for promoting awareness, empathy, and the formulation of fair and inclusive policies for refugees in Pakistan. The event's impact extended beyond its immediate participants, reaching broader audiences and inspiring a collective commitment to address the needs of refugees and create a more compassionate and inclusive society.